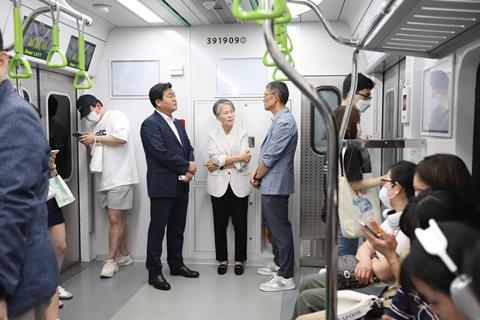 SOUTH KOREA: The 18·3 km Sosa – Daegok second section of Korail's Seohae Line serving the western side of the Seoul conurbation opened for revenue services on July 1.
The Wonsi – Siheung – Sosa southern section had opened in June 2018.
Construction of the northern section began in 2016, undertaken by a consortium of Hyundai Engineering & Construction and Daewoo Engineering & Construction at a total cost of 1·6tr won.
The extension runs north from Sosa to Gimpo Airport and then under the River Han to an interchange with Seoul metro Line 3 at Daegok, adding four intermediate stations.
Interchange is provided with Line 7 at Bucheon Stadium and with lines 5 and 9 at Gimpo Airport, which is also served by the AREX airport express and the Gimpo Gold Line. Connections to Korail's Gyeongui – Jungang suburban line are provided at both Neunggok and Daegok.
Seohae Line services currently operate at 12 min intervals during peak time, reducing to 20 min headways off-peak.
A further extension from Daegok to Ilsan is expected to open before the end of August.