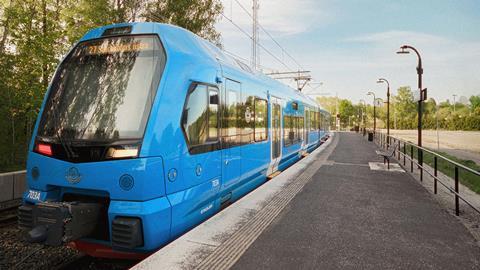 SWEDEN: Custom-designed Stadler X15p electric multiple-units have begun entering passenger service on Stockholm's Roslagsbanan, the first new trains on the 891 mm gauge suburban line for around 30 years.
The SFr232m order signed in April 2017 covers 22 EMUs with options for 45 more. The first public service was the 10.35 from Stockholms Östra on October 31, and the X15p fleet will gradually enter service as more drivers and maintenance staff are trained.
The three-car 1·5 kV DC EMUs are 60 m long and 2 750 mm wide, with lightweight aluminium bodies. They have a maximum speed of 120 km/h and operating speed of 100 km/h, with faster acceleration and shorter braking distances than the current X10p EMUs supplied by Hägglunds in 1988-95.
Winterisation for Swedish conditions includes enclosed traction equipment, double-wall inter-car gangways, high levels of insulation, floor heating and warm air curtains around the doors.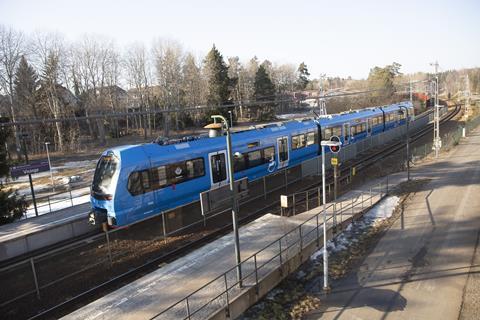 The EMUs have a capacity of 300 passengers, including 162 seated, with wide gangways and spaces for prams and wheelchairs. Features include air-conditioning, passenger information screens and 43 power sockets.
Accessibility features include floors level with the platforms, moving steps to bridge the gap to the platform and white doors to provide a visible contract with the blue livery.
It was originally planned that EMUs would enter service in 2022. 'We understand that the trains have been long-awaited and for that reason it feels good to reach this important milestone', said Annika Bergström, Project Manager at Region Stockholm. 'There have been a number of challenges that have made it take longer than expected.'
The narrow gauge meant that testing which would normally be undertaken as part of the manufacturing process had to be undertaken on site in Stockholm, creating delays when any issues needed to be addressed.
The 65 km Roslagsbanan network comprises three electrified routes from Stockholms Östra to Kårsta (L27), Österskär (L28) and Näsbypark (L29), which together carry around 15 million passengers a year. Since April 2022 it has been operated by Transdev under a 12-year contract awarded by regional transport authority Storstockholms Lokaltrafik.